OUR 5TH BIRTHDAY
On the 24th of September 2016 we celebrated Cribs 5th Birthday. It was such a Great day with our fabulous Customers and their little ones. Oonagh from Gymboree Clare called and made the afternoon so special for the kids. We all had a Great afternoon singing and chatting and eating lots of sweets. Plenty of giveaways on the day too with Barry Toner winning himself a ladybird push along and Niamh Mcnamara won a €50 Voucher from our friends over at Moulded Memories.We also have a Shnuggle bath up for grabs on our facebook competition.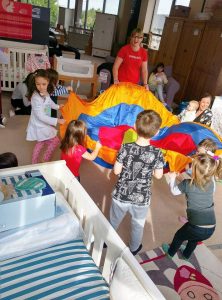 We have had such an adventure over the past 5 years and we now have 2 little smallies of our own to check out all the new products on.
We would like to Thank our fantastic Customers for their loyal support over the past 5 years and are looking forward to many more Baby showers and parties in store.
Thanks to all our magnificent Companies too 🙂
Aoife and Roisin Xx
#Abeille #babymel #thegrocompany #grobag  #wallaboo #doomoo #shnuggle #pinklining #storksak