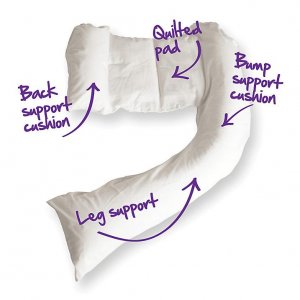 Dreamgenii Review
Hello Ladies!
I hope you had a wonderful Christmas and New Year.
Sorry it has taken me so long to write this review on the brilliant Dreamgenii.
I was delighted to be chosen as the first reviewer of the Dreamgenii for Cribs @ Madden Furniture after winning a facebook competition.
Being pregnant adds new challenges to sleep time, and its a great idea to have a pillow that supports your belly, back, hips, knees, legs and breasts. Its soft and comfortable, but still firm enough to tilt your back a little, but still be on your side. I am a back sleeper and sleeping on my side does not come naturally to me. I usually end up rolling onto my back, but having a cushion there to feel like I am, but not actually doing so is great. Its lovely to have the back support as well as the tummy/breast support- it prevents me rolling onto my back, even if I want to!
My Dreamgenii comes everywhere with me, whether I am going on a weekend away or even lounging at home. Its so portible and travels well. It even slides easily back into the zip bag that it came in.
It works brilliantly whether you are on your right or left side. You dont have to flip the pillow over every time you turn around. (The back support just becomes the tummy support).
There are so many different positions you can use it for too. I generally lay on my left, keeping the shorter side of the pillow by the edge of the bed for quick manouvering to the toilet in the middle of the night. With the shorter side up on my left, it supports my stomach and breasts better. The longer side stays along my back, preventing me from rolling over onto my back and the tail end of the pillow still curves in to support my knees.
Sometimes I sleep with both legs above it.
Occasionally I use the back support for my belly and pull the bottom part of the other side up through my legs. I just flip it over when I change sides- its so easy to do!
Overall, I cannot thank Cribs @ Madden Furniture enough for introducing this fantastic product to me. It has improved my sleeping experience no end and I will continue to use it not only until I give birth, but also afterwards to aid with feeding.
I intend to write a follow up report on just how useful and comfortable the Dreamgenii is following the birth of our baby in March.
10/10 – Thank you once again to the girls in Cribs @ Madden Furniture for choosing me!
More info on the Dreamgenii HERE